Best Women's Tips and Ideas for Christmas Outfits in 2022
Christmas is coming! We've already made it past Christmas in July and once those school supplies are done flying off of shelves, it's time to start planning for the most wonderful time of the year. In this blog, we are talking about the Best Women's Tips and Ideas for Christmas Outfits in 2022.
Dressing for any holiday event can be exciting and fun, but sometimes it isn't easy to know what to wear for particular situations and events. Here are some tips and ideas for you to use to help you find the perfect Christmas outfits to wear for any occasion.
Tips:
One of the first things to consider is the time of day the event will be held. A lunch or afternoon engagement will require a different approach as to what to wear than an evening event.
Once you have the time for the event, you should consider what kind of budget you have to spend on a new outfit. If you're on a tight budget, you can shop only sales, check out thrift store options, or even put together something you already have in your closet that could work for the event
You can wear any colour you want to a Christmas event, but darker, richer colours for clothing and accessories are great for evening gatherings. If you're attending something in the daytime, you can also wear darker colours but warm-toned or pastel colours fit best during sunlight hours.
There isn't any rule mandating that a woman must wear green or red to a Christmas party unless the host specifically asks guests to do so. Of course, if you look amazing in green and/or red, you definitely should wear those colours!
Depending on where you live, the weight of the material should reflect the temperatures you're up against in both the daytime and evening hours. Layers are a great idea for anyone who lives in an area where it's warmer during the day and chilly at night. This is especially true for anyone who is attending an outdoor event. It's easier to take off layers if you find that you are too warm and then put the layers back on if you get chilly.
What to Wear to a Christmas Brunch or Lunch
More and more families and friends are enjoying gathering earlier in the day to celebrate the holidays together. If you're attending a lunch or brunch, you have a special opportunity to wear bright, bold colours that can be paired with sparkling accessories.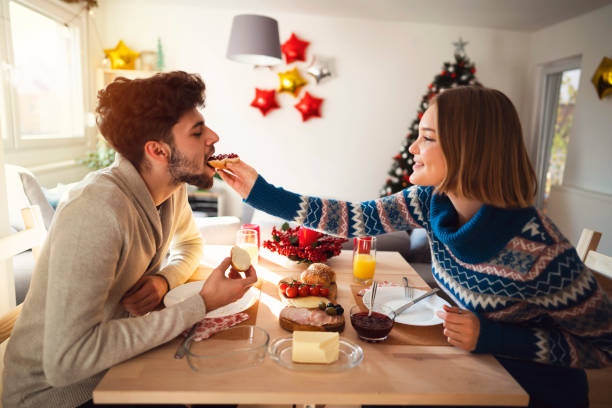 Depending on where you live, you can opt for a light, cotton burgundy dress or a green cotton shirt with sequined shoes. It's more than okay to sparkle during an early-day gathering during the holidays!
Lazy Day Christmas Outfits
Many families shut down the outside world on Christmas day and have a pretty casual dress code! Just because pyjamas are the most popular choice doesn't mean that you can't bring your own fashion sense to the party.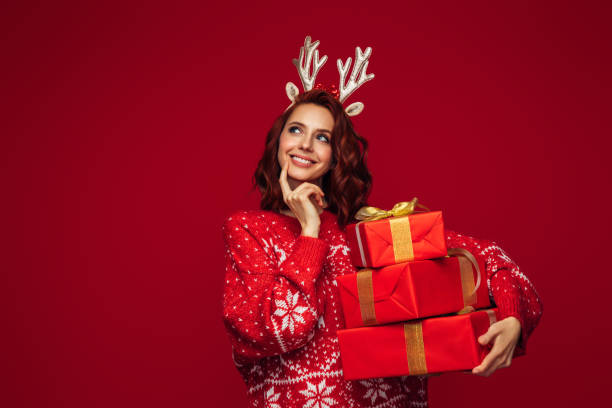 Indulge in a set of silk/satin pyjamas, lush fuzzy slippers, and a playful headband. You'll be a vision of style and comfort to rival those sugar plums dancing in other people's heads.
Christmas Dinner (Family/Informal)
If you're attending or hosting a family dinner, you'll already know what the dress code expectations are for your people. If you want to set your own standard of dress for Christmas, you don't have to go over the top and sparkle from your tiara to your designer-covered toes.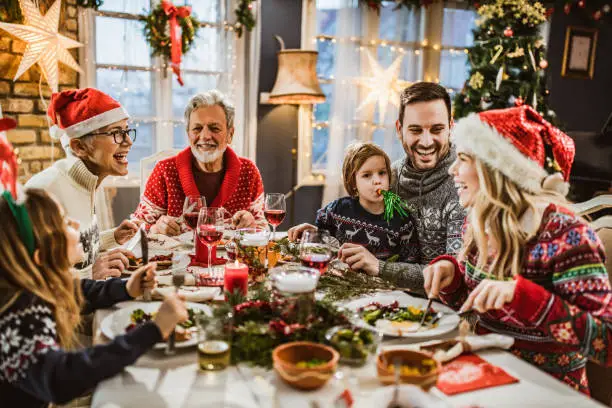 A simply belted top with flowing pants gives you a look of carefree, effortless fashion while keeping your overall style toned down to blend in with the rest of your company.
Formal Office Or Family Holiday Gathering
These events are where you get to let your inner princess out to play with your fashion options! Formal means fancy, and if you've ever seen a fancy princess movie then you already know that this is going to be fun. This is the time to go with the glittering dress or velvet pantsuit.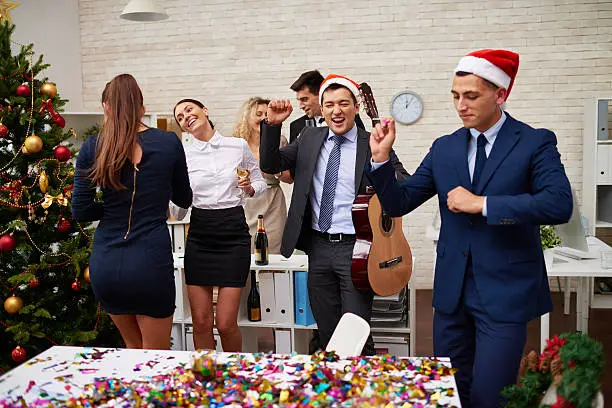 You can even wear a sparkling pantsuit with a matching velvet blazer. Always add more sparkle or depth to whatever you wear with your shoes and accessories.
Unexpected or Non-traditional Events
We live in a very diverse world and our fashion choices should honour that! If you're invited to any kind of celebration or meal that isn't based on Christmas during the holiday season, you can still have fun and festive with what you choose to wear.
Plaid isn't everyone's favourite design of clothing, but a red plaid skirt with a black turtleneck would be perfect for you to wear when you're meeting your boyfriend's parents for the first time or attending an event not associated with Christmas. You don't have to stick with red plaid and you can change up the top you wear with it.
You can also simply add a plaid scarf or shawl.  There are endless ways to mix and match plaids and solids that you can do not only during the holiday season but throughout all the other colder months, too!
Keeping it Casual
Since ugly Christmas sweaters are a big thing throughout the holiday season, don't forget that anytime you have to pull on the beer-drinking moose sweater, it's also a great opportunity to pull on your most comfortable pair of jeans. Just because an event takes place during the holiday season doesn't mean you can't keep things casual with your fashion choices.
Family gatherings, lunch with friends, and office parties might just prefer to keep things light and fun—including what their guests wear to their event. You know your workplace, your friends, and your family. Making the call to go casual is easy.
Rules are More Like Suggestions
Just because there are tips and ideas as to what to wear during the holiday season doesn't mean that you can't be yourself! If something doesn't feel right or makes you uncomfortable, just don't worry about it.
Wear what's right for you, because if your host only cares about what you're wearing, do you really want to be there anyway?
You do you, and remember to enjoy however you dress throughout this holiday season!