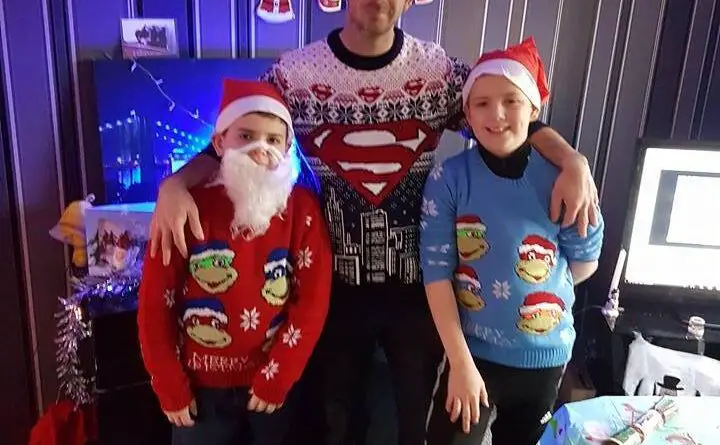 Hello and welcome to the Christmas everyday club about us page, where I hope to explain who we are, what we do and why we have created this brand.
I am Jay, a single dad to two wonderful and amazing sons who love Christmas, helping and giving, and creating memories.
So we decided to create a place, a community of like minded people that can come and enjoy all of these things with us.
Christmas
First, who doesn't love Christmas. There are lots of great things about Christmas whether that is being with family, opening presents, seeing santa, listening to Christmas songs or my favorite, watching Christmas movies. Christmas has something for everyone to enjoy and it brings so much happiness and joy.
We want to make the Christmas Everyday Club the best place to find all this. So people, no matter the age can come and enjoy countless hours any day of the year.
Helping & Giving
We might not have much, but we see and hear about others not having half as much as we do, so we count ourselves lucky and like to give back. So we create free printables all year and share them on here for anyone to enjoy.
We also create books to sell on Amazon and with any profits as well as some of our own money, we buy and donate to local kids charities. Every little helps and if it can help someone, we are happy to help.
We also created a book that is called Operation Kind To A Stranger that is created and intended for someone to buy and give away to a total stranger. This is to help put a smile on someones face who for all we know, could be having a bad time. We hope it helps raise a little Christmas spirit.
My sons and I bought, wrapped and gave away so many of these books last year (2020) and some of the faces from the strangers where priceless and they looked so happy and because of this, we plan on doing it every year. We also have some friends and family now who want to help out to deliver even more books to strangers.
The added bonus to this is that the profits from these books also gets donated to local kids charities and hospital wards which makes this more special to us.
Creating Memories
Life has it's ups and downs and can seem to go fast, so my sons and I love doing things together and with other loved ones that create a memory of a lifetime. Now this can be just getting a picture taken together, it could just be putting new decorations up, but then there are the days out, the lead up to Christmas day where we try and do as many fun festivities as we can. Memories can be created no matter what you do but creating them with the people who mean the absolute world to you is just the best in my eyes.
One of my favourite memories is me pretending I had a real live little robin redbreast in my pocket and my sons wanted to see it. So i just showed its head and said becareful as we don't want to scare it. It was fake, a plastic thing that you pop on your tree branch but they were amazed that I had caught it and thought it was real.
Then since then, our tradition is we put it on the top of our tree instead of an angel or a star. This is our tree topper.
So I hope this has explained about us and given you a clear idea of what the Christmas Everyday Club is about and what is means. We hope you like it here and become a regular in the forum too so you can chat, share and enjoy the community of Christmas.
Contact us
If you want to reach out and drop us a message, here are some email addresses with a short description. Plus the Christmas Everyday Club is on all social media platforms and you are welcome on any of them.
contact@christmaseverydayclub.com is for general questions you might have but don't want to post it on the forum page.
support@christmaseverydayclub.com is for any support related issues only. Problems you might be having with logging into the forum or for signing up.
recipes@christmaseverydayclub.com Is for any delicious recipes that are related to Christmas and the festivities. Food or Drink recipes are welcome and any images too. We will add them to our recipe page and give you a mention if you like.
podcast@christmaseverydayclub.com is to get in touch if you would like to feature on one of the podcast episodes talking about Christmas movies. If you want to advertise on here, you can also get in touch. 
stories@christmaseverydayclub.com is for you to share your stories with us, giving us permission to upload it to the blog. So if you want to be a writer for the site, get in touch.
Now it is time for you to have fun, chat, share and join in. Have a read, watch a movie, plat a game of trivia, listen to some music or just enjoy learning about all things Christmas.
Thank you and we wish you a Merry Christmas!