Beautiful Gift Baskets for Easy Holiday Gift Giving Christmas.
If you've ever received a gift basket for any occasion, then you know how exciting it can be. Even if you haven't, you're likely to have had a little bit of gift basket envy when you've seen someone else pick through their basket of goodies. Here we are talking about the Best Gift Baskets for an Easy Holiday gift giving Christmas!
Either way, you know that gift baskets seem like they're the gift that keeps on giving. Craving a little chocolate? Dig a little into that gift basket and, oh my goodness, there are some chocolate-covered peanuts. Need something sweet and salty? Well, hello there, chocolate-covered pretzels.
The point is that gift baskets can be one of the best gifts a person can get for any occasion. But when you give a gift basket at Christmas, you might as well nominate yourself as the best gift giver in the world.
Premade Gift Baskets for Every Passion
Everyone has their favourite things in their lives. People tend to have a favourite food, movie, drink, cheese, etc. When you want to get someone an unforgettable gift this holiday season, you need to get them a gift basket tailored around one of their favourite things. Nothing delights people more than getting gifts that specifically cater to their tastes.
Note: The Site may contain links to affiliate websites, and we receive an affiliate commission for any purchases made by you on the affiliate website using such links. For More Detail 
Coffee Lover's Gift Baskets
Let's say your father is a coffee lover. No matter what time of day it is, he's got a steaming mug in his hand or close by. He also talks about different roasts, acidity, and all kinds of other characteristics of coffee that he's passionate about.
If you're looking to get a coffee-themed gift basket on the low end of your budget, you can start with a Coffee Cluster K-Cup Coffee Gift which includes your choice of two boxes of K-cups,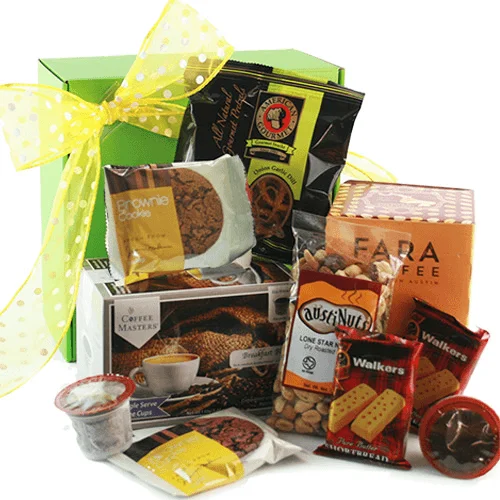 two boxes of Walker's shortbread cookies, American Gourmet seasoned pretzels, Austinuts Texas Lonestar nut mix, and two J&M chocolate chunk cookies.
For a few more dollars you can give the K-Cup Christmas gift basket. This one comes with one K-cup box, a ceramic Merry Christmas coffee mug, Dolcetto Chocolate Wafer Rolls, Sheila G's salted caramel brownie brittle,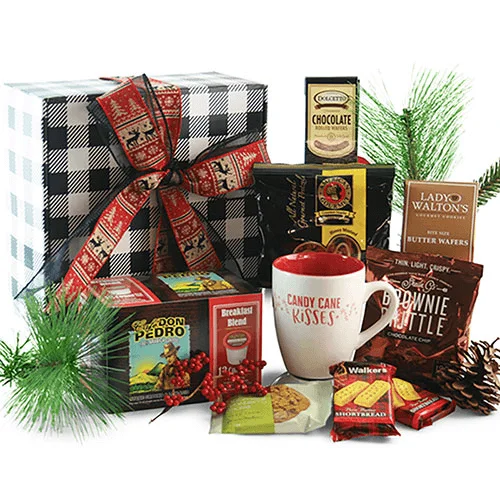 and one J&M chocolate chunk cookie, old-fashioned chocolate cream puffs, and American gourmet seasoned pretzels. This basket is much more snack-focused, so it would be a good idea for someone with a passion for both coffee and snacks!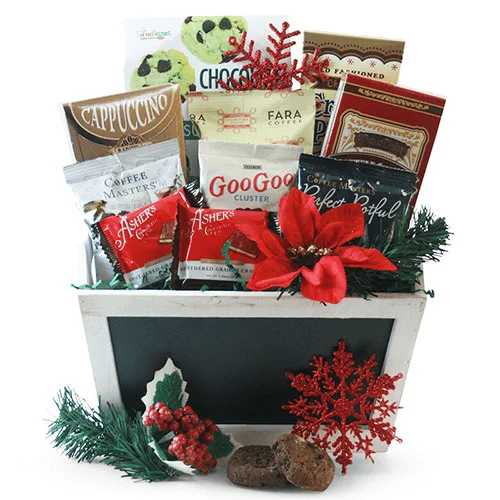 This particular basket includes Coffee Masters Vanilla Nut Cream ground coffee, Coffee Masters Winter Frost ground coffee, cappuccino mix, old-fashioned chocolate cream puffs, Primo Dolce truffle cookies, Goo Goo Cluster,
Too Good Gourmet chocolate chip mint cookies, two Asher chocolate sandwich cookies, and Fara Texas Signature roast ground coffee.
The baskets listed here are only a small selection from tons of both customized and premade gift baskets. Click here to browse the entire selection!
Big Enough for the Whole Family Gift Baskets
Making sure you don't forget anyone when shopping for Christmas can be stressful, especially if you come from a large family. Giving a gift basket created for an entire family can include everyone and create an opportunity for a family to unpack lots of goodies together!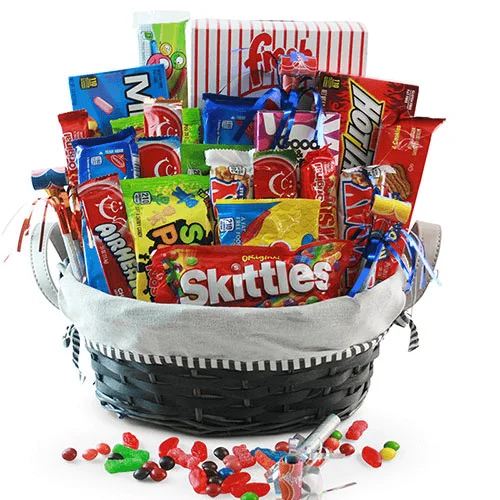 It comes filled with Sour Punch Straws, three boxes of theatre candies, two Oreo cookies, Nutter Butter cookies, two Skittles, 2 Payday candy bars, two Sour Patch candies, four Airheads, two Starburst and Lesser Evil Himalayan Popcorn.
This basket would be great for families who love to have their own movie night! Just gift them a new movie along with the basket and the recipient will get one of their most memorable gifts ever!
The Winter Wishes Holiday Gift Basket is one of the richest, delectable ones you can gift to a family or group.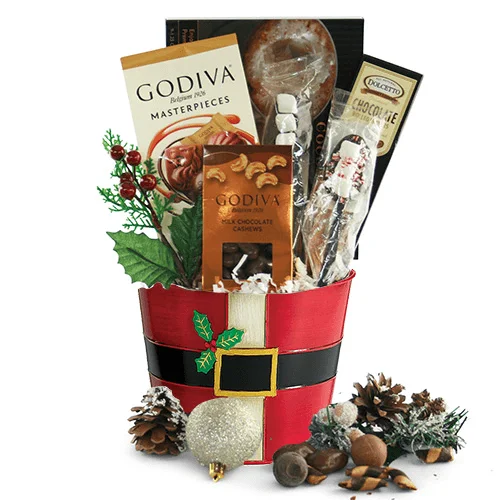 This unrivalled treat includes Dolcetto Chocolate Wafer Roll, two Melville Chocolate Rice Crispie Treats, Godiva Chocolate cashews, and Godiva Creme Brulee chocolate truffles, and nine packets of Cocoa Amore Cocoa Lover's Collection. Rich chocolate is always a huge hit!
When you need to send a gift basket to a large number of people with a diverse set of tastes, the Gift Basket for Christmas Deluxe is sure to be a favourite this year. It has so many treats packed into it, there's sure to be something for everyone.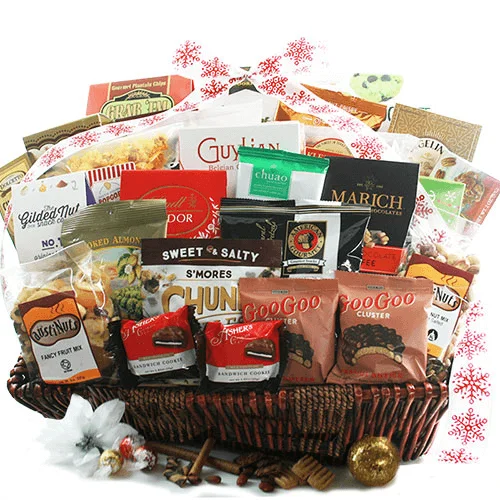 You'll find Austinuts Fancy Fruit Mix, Grab 'em Snacks Texas Chili Garlic plantains, Vision Pack smoked almonds, Marich Chocolate Truffles, Lindor Chocolate Truffles, Russell Stover Holiday Chocolates, Too Good Gourmet Chocolate Mint Chunk Cookies, Angelina Sweet Butter Cookies, and tons more!
Saving on Your Christmas Gift Baskets
If you're like so many other people, you only have so much that you're able to spend to get everyone something on your gift list. When you shop for gift baskets, always make sure to check for specials, baskets that are on sale, and baskets that come with free shipping.
Design Your Own Gift Basket
Did you know that you can design your own gift basket to make sure that your gift has everything the recipient would want in it?

You can choose your theme, the container, and all of the products you want to be included before checking out. You can start here if you're ready to create your own gift basket.
Gift Baskets Make Gift Giving Christmas So Easy for Everyone
While a few gift basket options are featured here, there are so many more Christmas gift basket themes, ideas, and options available to choose from. You can select from wine gift baskets, gourmet gift baskets, snack baskets, pet-themed gift baskets, holiday breakfast baskets, and so much more!
Well Thought Out or Last Minute Gift Baskets Can Make Your Holiday Less Stressful
When you think about giving gift baskets, you're taking advantage of an opportunity to give an incredible gift that won't take you much time to order. Whether you're building your own gift basket or sending one of the many amazing pre-built baskets available, you can rest easy knowing that you're giving a high-quality gift that anyone would be happy to receive for the holidays.