10 Creative DIY Christmas Decorations to Brighten Up Your Home
10 Creative DIY Christmas Decorations to Brighten Up Your Home
The most wonderful time of the year is here, and it's time to spread some festive cheer by adding a touch of Christmas magic to your home. Whether you're on a tight budget or just want some creative DIY ideas, these 10 amazing ideas for homemade decorations will make your home sparkle and shine this holiday season.
From paper snowflakes and pine cone wreaths to wine cork reindeer, these easy-to-make decor pieces will surely bring out your inner artist and make your space look better.
Paper Snowflakes
Paper snowflakes are one of the most well-known Christmas decorations you can make yourself. Not only are they easy to make, but they also give any room a bit of fun and charm. All you need is white paper, scissors, and the ability to think of something new.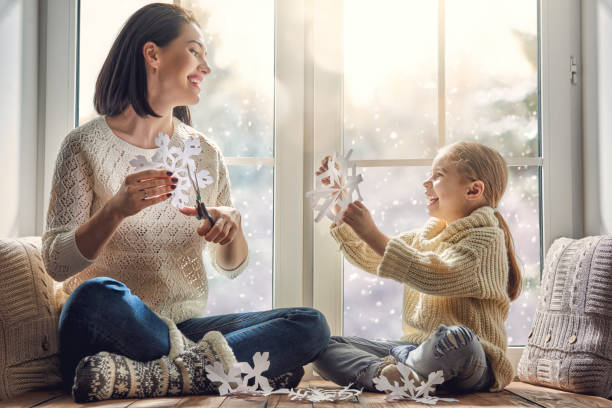 Start by making a triangle shape by folding your piece of paper in half horizontally. Then fold it in half again to make a smaller triangle. Use scissors to cut off the extra strip at the bottom so that the triangle is even.
Next, use your scissors to cut out small shapes along each side of the folded triangle. Remember that no two snowflakes are the same! When you're done, unfold your work!
Pine Cone Wreath
Pine cones have long been a sign of winter and the holidays. They can be used for many do-it-yourself projects, like making a pretty wreath for your front door. Not only is it easy to make your own pine cone wreath, but it's also cheap.
You can collect as many pine cones as you need from outside or buy them at a craft store if you can't find them where you live. You will also need a frame made of wire and hot glue.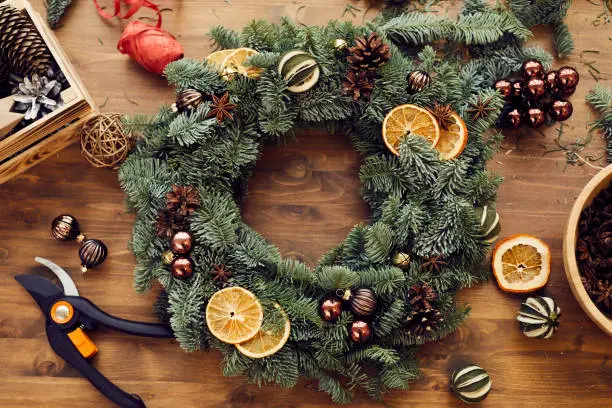 To make layers on the wreath:
Sort the pine cones by size.
Start glueing pine cones to the wire frame one layer at a time until it is completely covered.
Move on to the next layer and keep doing this until all of the layers are connected.
Before you glue the pinecones together, you could add sprigs of holly berries or iced pine stems between each layer. This would give the wreath more decoration.
Mason Jar Snow Globe
The Mason Jar Snow Globe is a beautiful and unique DIY Christmas ornament that will add a touch of magic to any room in your house. A simple glass jar, some glitter, and some small figures are all you need to make this easy craft.
Start making the snow globe by putting glitter in the bottom of the mason jar. You can use the standard white, or you can mix it up with other colors to make it look better. Next, put the small model you picked in the middle of the jar.
Once you've put everything in the jar the way you want it, carefully add water until the jar is almost full. Make sure to leave enough room at the top so that when you screw on the lid and turn the jar over, the water won't spill out.
You can put the lid on the snow globe when everything is in place. Before tightly putting the metal lid onto the jar, put glue around the edge of the lid.
Make sure you only move or shake your new work a little, because it could mess up what's inside.
Burlap Christmas Tree Skirt
Want to cover the bottom of your Christmas tree in a stylish way that doesn't cost much? A cloth Christmas tree skirt is what you need. With just a few tools, you can make this trendy and natural addition to your holiday decor.
Start by getting some burlap fabric from a craft shop near you. It should be a little bigger than your tree stand's width. Then, fold the edges over and sew them down to keep them from coming apart.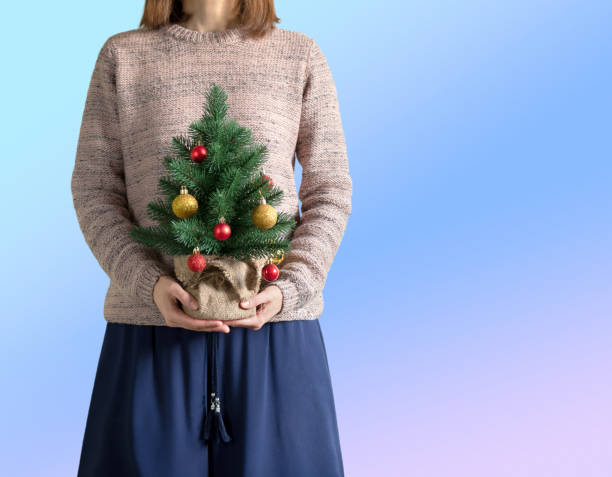 Next, think outside the box when you decorate! You can use stencils or stamps to add holiday patterns like snowflakes or reindeer, or you can just glue on some ribbon or fake fur trim for more texture.
Pine Branch Centerpiece
Want an easy and inexpensive way to decorate your dinner table with Christmas decorations? Why not try making a decoration out of a tree branch? This do-it-yourself project is easy but classy. It uses natural materials to bring the beauty of nature inside.
Get some fresh pine branches of different lengths to start. Cut off any extra leaves or branches at the bottom so they can stand up straight in a vase or other container. Group them together and hold them in place with floral wire or twine.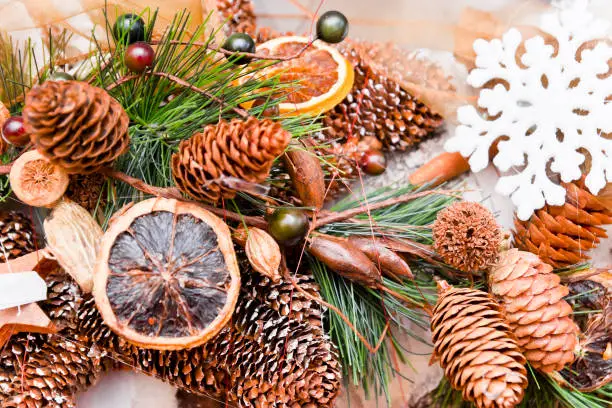 Next, add some decorations to your table to make it look better. You could add pine cones, berries, ornaments, or even small LED lights to make it shine more.
Put your finished arrangement in the middle of your table as a pretty holiday centerpiece. The smell of fresh pine will also give your meal an extra holiday feel.
DIY Advent Calendar
The DIY Advent Calendar is a fun and creative way to keep track of the days until Christmas. You don't have to buy a pre-made advent calendar. Instead, you can make your own with treats and gifts that are special to you.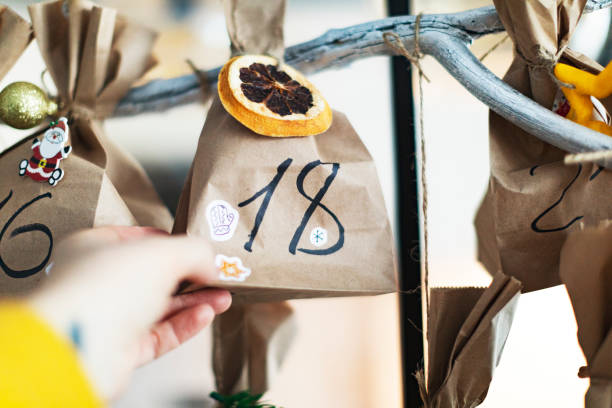 First, get 24 small containers, like bags or boxes. You can add some holiday cheer by painting, drawing, or sticking stickers on them. Next, put small gifts or treats like candy cane sticks, chocolate coins, or tiny ornaments in each container.
Felt Ornaments
Felt ornaments are a great way to give your Christmas tree some style without spending a lot of money. These little decorations can be made into any shape or design, making them great for kids and adults alike.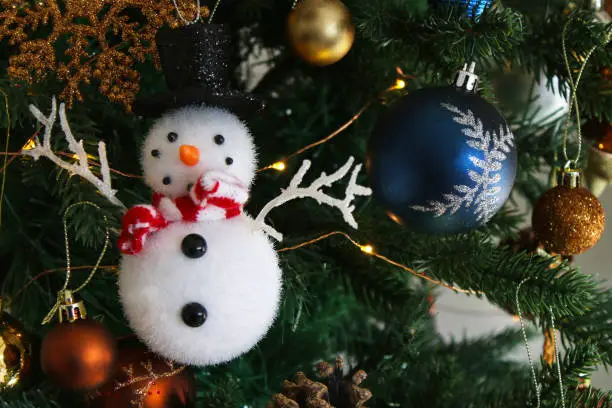 To make felt trinkets:
Pick an easy form like a star or heart as a starting point.
Trace the shape's form on a piece of felt, and then cut it out.
Use fabric glue to stick on feathers, beads, and other decorations.
If you want to be more daring, try making complicated patterns out of several pieces of felt. Cut out shapes in different sizes and colors, and use fabric glue to stick them together.
Christmas Fact For You: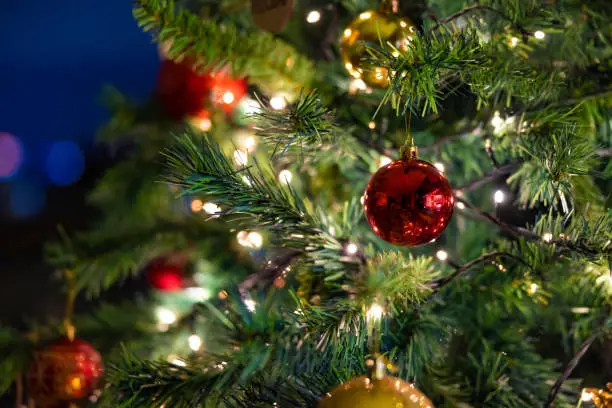 Many parts of the Christmas tree can be eaten, but pine needle soup doesn't sound great.
 Scrabble Tile Ornaments
Want to add something different and special to your Christmas tree decorations? Why not try to make ornaments out of Scrabble tiles?
Start by getting some Scrabble tiles. You can take them from an old game or buy them online. You will also need ribbons, glue, and any other decorations you want to add.
Spell out things like "Joy," "Noel," or even your family members' names using the tiles' letters. Put the tiles in the order you want and let the glue dry.
Next, tie a loop for hanging by tying a piece of thread through one of the letters on each ornament. If you want to make it more interesting, you could add small bells or ribbons.
Yarn-Wrapped Christmas Trees
Wrapping your Christmas tree in the yarn is a fun and easy way to make your home feel more festive. The best thing about these do-it-yourself decorations is that you can make them in any color scheme you want. This makes them easy to match with the rest of your decorations.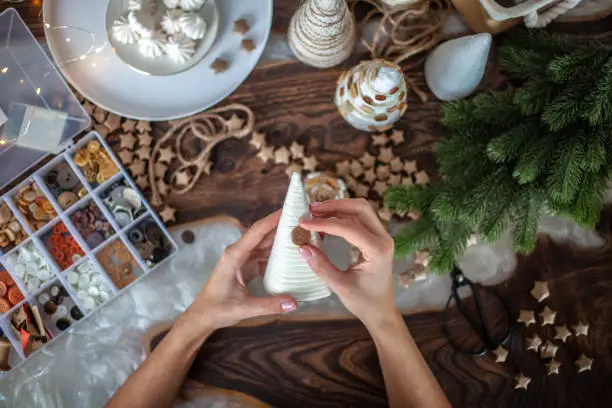 Cut cone shapes out of cardboard or foam board to make Christmas trees with yarn wrapped around them. Then, choose a color of yarn and start wrapping it around the cone, gluing it down as you go.
Wine Cork Reindeer
The Wine Cork Reindeer is a quick and easy way to make a cute and festive decoration for your home. All you need are wine corks, red pom-poms, plastic eyes, pipe cleaners, and glue. This do-it-yourself project is great for both adults and kids.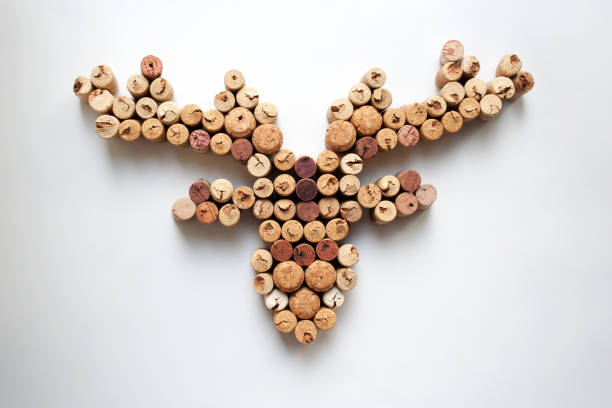 To start, cut two pieces of pipe cleaner and twist them onto the top of a wine cork to make horns. Then, put plastic eyes and a red pom-pom nose on the front of the cork with glue. To finish your cute reindeer, twist together four pipes with cleaner legs.
Conclusion:
Thanks so much for stopping by our blog. And that's it, my friends. If I've missed something or you have questions, please leave them in the comments below. I'll do my best to answer your questions and update this post as needed.