Holiday Decoration Trends for 2022: What to Watch for In The Year's Best Christmas Movies!
I can't be the only one who wonders about where movie set designers draw their inspiration from when decorating for Christmas. Who thought up the idea of burlap ribbon cascading around and down a Christmas tree? Here we are talking about Holiday Decoration Trends for 2022: What to Watch for in the Year's Christmas Movies!
That red pickup truck with a pine tree in the back was in every decor section around the country for the last couple of years.
But who gets to decide what's "trendy" each holiday season? To be honest, I have no idea. No one outright claims responsibility for getting the ball rolling on the next hot Christmas decoration.
The important thing is to pay attention to what this year's trends will be for this Christmas season. It's even more fun to see which holiday movies adopt the latest holiday decor in each film. Whether you watch Hallmark, Lifetime, or any other channel's Christmas movies, here are some of 2022's decorating trends to keep an eye out for in every new film release.
Are you dreaming of a white Christmas?
Then this is the year for you! White Christmas trees haven't taken centre stage in some time, but it seems right to bring them back this year. If you're on the fence about having a white Christmas tree in your home, consider how much your ornaments will stand out against white, snowy branches, and how the lights will reflect even brighter.
You have a couple of choices if you're just itching to get a white tree in your home this year. For those on a limited budget, you can take an existing green tree and paint the "needles" white. This process is called "flocking" and can be done with spray paint or a sponge paintbrush.
Note: The Site may contain links to affiliate websites, and we receive an affiliate commission for any purchases made by you on the affiliate website using such links. For More Detail 
If you're looking for a tutorial, you can find plenty on YouTube. A brand new or used tinsel tree is the easiest choice if you don't want to get into a DIY white Christmas tree.
Forget about buying roll after roll of wrapping paper this year!
Recycling and sustainability are all the rage this year. Wrap your present with fabric instead of disposable paper. You can even use cloth gift bags depending on the size and shape of the gift.
As sustainable resources are on many people's minds, the fabric just makes sense. Fabric can be used over and over again when giving gifts. There's also nostalgia associated with wrapping a gift in fabric. Believe it or not, wrapping paper hasn't always been around!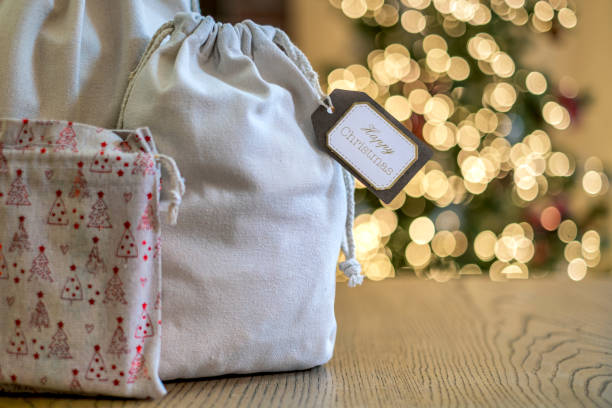 Keeping things as inexpensive as possible is always trendy, but this year has the potential to be the most frugal holiday season of all. While the financial aspect of life this year has been tough for many, there isn't any reason for people to spend a ton on new holiday decor.
With both sustainability and nostalgia seeming to headline the decoration trends this year, pulling out your existing decorations or even creating your own DIY pieces can ease the financial stress that can come with the holiday season.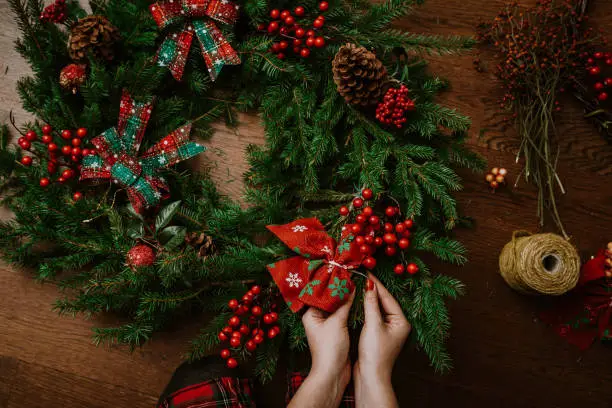 Bringing nature inside for the holiday season might sound messy, but it doesn't have to be! Any showcase pieces like swags or garlands can be either natural or artificial, bringing the intimacy of being in nature inside your home. White and metallics are great ways to bring out the rich tones of your greenery.
If metallics just aren't your thing, popular colour combinations that are set to be trendy this year include soft pinks and blues or browns and sandy shades. If you can't decide which is your favourite trend, maybe assign a colour combo for each room to allow more variety in your home.
Shopping local is always trendy, but bringing in locally made or resourced decor is becoming more and more favoured for the holidays. These decor pieces can bring a sense of connection to your area.
You may also feel a sense of nostalgia each year you bring it out while decorating. Consider giving locally made gifts as well and using them in your decor. Many times, these gifts become treasured pieces that can be passed down from generation to generation.
Christmas tree decorating trends come and go. And some people like to decorate their tree the same way year after year. But if you're just itching to change things up this year or you must have the latest trends as part of your tree, this year is promising to be colourful and beautiful.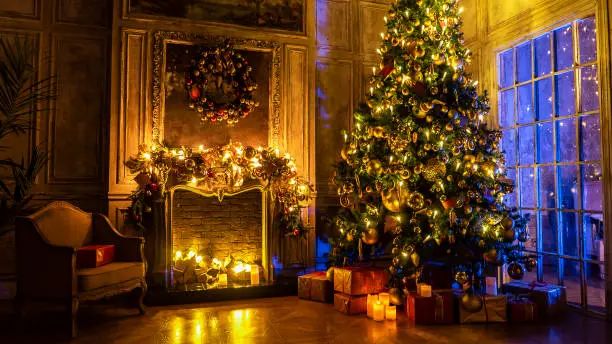 Bringing the beauty of a chilly mountain pine to your home makes for a cosy, soft tree. Use soft blues and silver in the overall decor. Using a white or flocked tree can make the tree more intimate-feeling in your home.
Shapes of all colours and sizes can shape the desired look and feel of your tree. You can get a truly modern feel with geometric shapes associated with structures like squares and triangles. If you're looking for a softer feel, try adding circles and star shapes. Mix up the materials and textures with your ornaments to give them plenty of character.
Deep colours like dark green, blue, and even gold give a Christmas tree the feel of a cold, subdued winter sunset. These colours will be seen in a lot of decor pieces this year and you'll be able to coordinate an entire room to enhance the beauty of your tree.
If you've been taking a look at any early decor pieces for Christmas this year, you're likely to have seen people using natural materials for decorating. Keeping your Christmas tree decorations as natural as possible is not only trendy, but it's also good for the environment.
Dried orange slices, popcorn string garland, wood pieces, and more natural pieces on a Christmas tree are not only good for the environment, but they can also be nostalgic for those who embraced these traditions as a child.
Christmas Holiday Decoration Trends for 2022
I suspect that it's impossible to pin down the origin of the latest decorating trend. When it comes down to it, inspiration can come from the most unexpected places.
So even if you want to keep up with current trends while decorating for Christmas, make sure to pay attention when inspiration strikes. You could be setting up the next trend that will dominate the decor industry for the next holiday season!